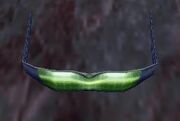 Night Vision
is a set of visors used to see in the dark by amplifying visible light. They only work in the very darkest of places so if they're used anywhere else they will blind the user as there is too much light.
They share the same model with the IR Scanner and X-Ray Scanner, though with green lenses.
In-Game Description
The latest of a line of 'starlight' scopes that enhance visible light to produce a clearer picture of the surrounding environment. Uses a target-movement algorithm to highlight possible threats.
Appearances
They are found in the DataDyne Central: Extraction and Crash Site: Confrontation missions equipped by Joanna, though they are provided in any mission (and Combat Simulator) when the Perfect Darkness cheat is enabled. Cassandra De Vriess female bodyguards also use them in DataDyne Extraction and can be blinded temporarily by switching the lights on.
---
Community content is available under
CC-BY-SA
unless otherwise noted.