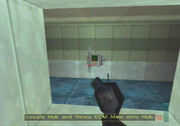 The
ECM Mine
is an electronic jamming device, which appeared in
Perfect Dark
. It is only used in the
DataDyne Central: Defection
, to disable the internal security hub and external communications hub. With the former, it will disrupt the camera systems for a few minutes, providing enough time to infiltrate the lower floors and destroy the cameras directly without the risk of setting off any alarms.
It is used by simply throwing it onto the target device.
Description
A focused white-noise jamming device, capable of simulating one of many common electrical faults in any system to which it is directly attached.
Notes
Despite being called a 'Mine', it is a jamming device and does not explode; it electronically jams the device it is attached to.
It's handle is the same used on the side of the Rocket Launcher .
---
Community content is available under
CC-BY-SA
unless otherwise noted.